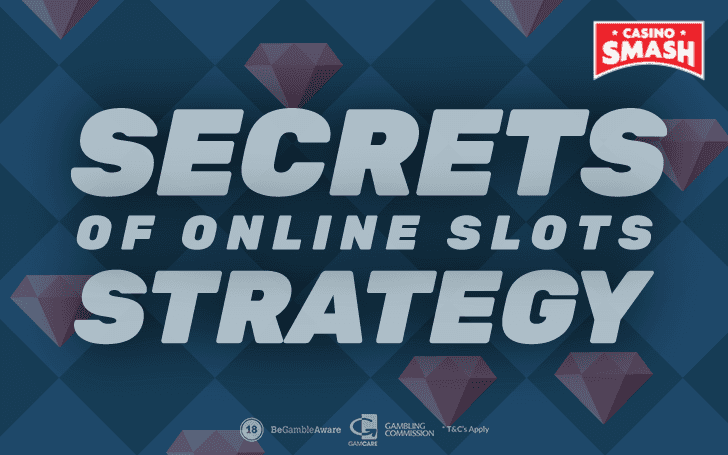 How to Win at Online Slots with the Right Slots Strategy
Discover the only slots strategy that works and win at online slots with all the secrets only the pros know!
Can you guess what the best way to win big at online Slots and gamble like a pro is?
You are probably going to say that you need to know how to find the best online Slots games to win and pick those that give you the best odds.
You know what? You are right.
But what's crazy is that even if you know how to win at online Slots… it doesn't mean you can make it happen!
So, are you wondering how to find the best Slot machines to play online and nail a big win?
This is what this slots strategy article is about.
Here, you find some precious tips on how to beat casino Slot machines and win more on your favorite games.
You are going to discover how to identify the best Slots to play online (in all fairness, I am going to give you some names too) and you will get a few interesting secrets professional gamblers use when they play Slots.
What you will not find, however, are cheap tricks that pretend to explain how to manipulate a Slot machine.
First, because it's impossible to do it when you play online Slots. And second, because, even if it were, you wouldn't be able to cash your winnings and you'd be banned for life from the casino.
This guide is not about cheap tricks to win at Slots. Here you find what you need to chase a big win and be profitable in the long run.
Winning at Slots Is Not as Simple as You May Think
One of the main mistakes beginners make is to believe that it's very easy to win at online Slots.
The simplicity of Slots is what tricks people into thinking that they don't need to do much to win money on Slots: you just need to spin the reels and keep your fingers crossed.
If you are superstitious, that is.
Now, although playing Slots is indeed (almost) as easy as pushing a button - the truth is you won't go very far if you don't use the right Slots strategy when you play.
What beginners need to understand is that there's only one way to learn how to win at Slots, and that's by identifying the most common mistakes people make and by always relying on the best online Slots.
I dedicated a whole section of this Slots strategy guide to choosing the best online Slot machine to win but, for now, let me tell you this:
Some Slots look amazing. They are colorful and loud, and they are built to give you the feeling that you will win a lot of money.
But as you shouldn't judge a book from its cover, you shouldn't also choose a Slot from its appearance.
Before the Strategy: Set Your Bankroll
Ask professional gamblers to give you just one tip to help you learn how to win at online Slots and get ready to hear the same answer over and over again:
The secret to winning at Slots is a correct bankroll management strategy.
What professional players will tell you is that you need to know the amount of money you can spend on Slots in advance.
This is what people refer to as the bankroll.
On this topic, I wrote an extensive No-Nonsense Guide to Bankroll Management that you are free to use in case you need some in-depth insights and you are not familiar with such important concepts as scared money and extreme bets.
The main point about bankroll management is that setting a precise bankroll (the money you are going to play on online Slots) is only a half of the best Slots strategy.
That's because any number you can come up with means nothing if you do not know how to match your budget with the actual cost of a slots spin.
Picture this:
You have set a budget of 100 thinking that it's going to cover an hour or two at online Slots.
You log into your favorite casino, launch a new interesting Slot you found on the lobby, and hit the spin button twice just to see how it works.
However, that's when you realize the two spins cost you 5.00 each - and you already ate 10 percent of your bankroll in 30 seconds.
Do you still think your 100 bankroll is going to last for two hours?
A good Slots tip is to always check the full betting range of the machines you are about play as that matters at least as much as the budget you set prior to your games.
Play an online Slot you cannot afford and you will see yourself leaving in less than 15 minutes full of negativity and frustration.
Pick the one that fits your budget and you will have guaranteed yourself hours of pure Slot-o-fun.
Why Are the Paylines So Important?
Even though it's one of the most boring things to talk about, the concept of "paylines" is something you need to keep in mind if you are serious about learning how to win at online Slots.
To be honest with you, there's no difference between land-based and online casinos: if you play Slots to win money, you need to know about the paylines.
A common mistake Slots beginners make is to consider paylines relevant only to building winning spins or calculating how much money you can win.
What most Slots players don't understand, however, is that paylines are a key factor to determine how much a Slot machine is going to cost you.
That's because if you open a 25-payline online Slot to bet only on five of them, you have no chance to hit a big win at online Slots because that's not the way to win a jackpot online.
Do you want to know how to win the jackpot at online Slots? You can win the jackpot only if you bet the maximum on all paylines.
So - should you always bet on all the paylines?
In theory, you should, but keep in mind that betting on all the lines available can cost you a lot of money.
So, once again, what does your balance say? Can you really afford all those bets at once?
Find the answers to these questions and you'll know how much you can invest in each spin.
To give you a practical example, with a bankroll of 100, I would bet anywhere between 0.10 and 0.50 on each spin. And that's betting on all paylines, of course!
Can You Afford Large Bets? Here's a Strategy Tip for You!
Whenever you launch an online Slot machine, you are asked to decide on two very important aspects:
The value of the coins you will be playing with
The number of coins you will invest in each bet
This is important because betting four 0.50 coins is not the same as betting a single 2.00 coin. While these two bets on slots cost the same, they can produce very different outcomes.
And if you are serious about learning how to win at slots, you need to know that.
Online Slots offer identical payouts whether you bet 1, 2, or more coins. What changes is the multiplier that will increase (or not) the money you win.
Bet one coin and you are likely to multiply your winning by 1x. Bet two coins and the multiplier will be 2x. Now, do you see why the four-coin bet was the best choice in the example above?
The only difference occurs when you bet the maximum amount of coins allowed by the machine, as this is when the multiplier becomes higher than the number of coins "invested" in the game.
Then, there's the part on how to win the jackpot at online Slots.
As we've seen before, most Slots make their biggest wins and their jackpots accessible exclusively to those who bet the maximum.
Hence, if your goal is to hit a big win at online Slots, you don't need to just bet big. You need to bet the maximum.
Don't Forget to Use the Bonuses
Most online casinos offer bonuses to play Slots in the form of free spins and cash you get once you complete your first deposit on their platform.
While most promotions are tied to complicated terms and conditions that make them not ideal to really win money at Slots, more and more casino sites are starting to launch welcome bonuses that can make your life a lot easier.
Casinos like King Billy and Casino.com offer free spins bonuses before your deposit - meaning you get to play for free and you can win real money at no cost.
Others, like BGO, PowerSpins, and Spintropolis, offer wager-free spins so that you can cash out the money you win with no strings attached.
Personally, these are my favorite bonuses - since they are the only chance you have to play games, discover casinos, and win big at Slots at no cost.
For an example of these bonuses, have a look at the one available at BGO Casino right now.
What Are the Best Slots to Play Online?
Now that you know the basics of online Slots strategy, it's time to have a look at the best online Slots games you should play to win money.
Here I have gathered a shortlist of the best online slots to play online.
If you want to win money on slots and you want to win big - pick one (or more!) game from the list below and apply my Slots strategy tips!
Bonanza
This beautiful high variance online Slot machine by Big Time Gaming was launched in 2016 and quickly became one of the most popular casino games played on the internet.
With a Return to Player (RTP) of 96 percent and a max win set at 120,000 coins, the Bonanza Slot is a great game for all the beginners looking for a way to win big at online Slots.
Fortunium
Launched in June 2018, Fortunium is a brand-new video Slot machine that many believe is destined to become a classic.
This mid-variance Slot game for desktop and mobile was produced by Stormcraft Studios and comes with five reels and 40 paylines.
The bets start from 0.3 and the max win available is of 100,000 coins.
Starburst
You can't call yourself a true online Slots player before you had your fair share of spins on Starburst, the blockbuster by NetEnt that you find on nearly every online casino out there.
Being the highest-rated and most popular Slot machine of all time, Starburst should be the game of your choice if you are after the best online Slot games to win money.
Featuring five reels and 10 paylines, Starburst is a low-variance game with a Return to Player of 96.1 percent.
Book of Dead
Launched to be a clone of the once super popular Book of Ra, the Book of Dead Slot machine carved its own niche in the world of Slots and developed a solid base of loyal supporters.
In this case, you are looking at a five-reel Slot with 10 paylines, high variance, a Return to Player of 96.21 percent, and a max win of 250,000 coins.
Legacy of Egypt
Coming from the same group as the beautiful ripoff of Book of Ra that is the Book of Dead video Slot, here's another Egypt-themed slot machine you should play if you want to win money.
Legacy of Egypt is a five-reel Slot with 30 paylines and an impressive top prize of 450,000 coins.
Lost Relics
The second game by NetEnt to make it to our list of the best Slots games to play online is a beautiful five-reel machine with a Return to Player of 96.3 percent.
Lost Relics is a feature-packed exciting video Slot machine where you can win up to 60,000 coins on a single spin.
Cleopatra
Developed by IGT, Cleopatra is the last game on this list of online Slots to offer you a trip back in time to the land of the Pharaohs.
Cleopatra is a medium variance game that features five reels and 20 paylines. Besides the 95.7 percent Return to Player, what makes this one of the best online Slots in the world is how much you can win.
If you are lucky enough to strike just one lucky spin, you can take hope the Slot's max win of 25,000,000 coins.
Diamond Mine Megaways
Diamond Mine Megaways is a crazy Slot machine that boasts a stunning 117,649 ways to win.
Featuring a Return to Player of 96.43 percent, this is the best online Slot to win big and have fun at the same time. The game was developed by Bluprint Gaming in collaboration with Big Time Gaming.
The max win on Diamond Mine Megaways is 250,000 coins.
Disclaimer: Gambling is a game of chance and there's no sure-fire formula that guarantee winnings. You can improve your winning chances by using the right in-game strategies but there is no way to predict when a machine or a Casino game is going to pay. Also, this page contains affiliate links. If you click through and play, we might earn a commission. That's what allow us to keep CasinoSmash free and bring you the best online Casino bonuses!