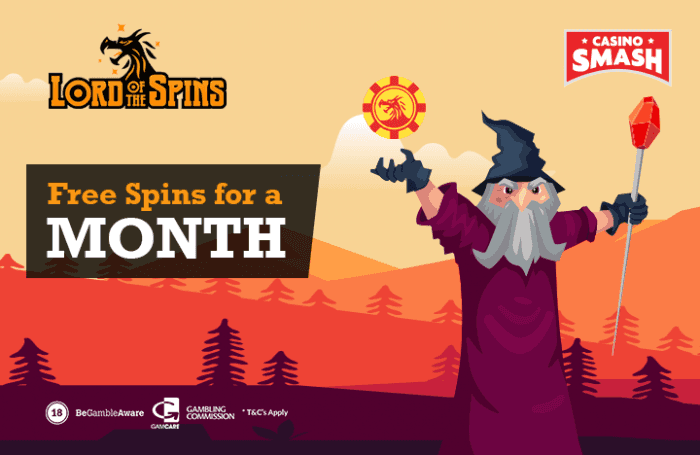 Ultimate October Bonus: Get Free Spins Every Day
Claim Lord of the Spins bonus now and you'll have enough free spins for the rest of the month!
There are many online Casino bonuses out there. You're most likely familiar with deposit match bonus, no deposit, or free spins.
How long do those usually last? A day? A couple of hours?
Don't you want something longer lasting?
This October, you can have it.
Lord of the Spins: Free Spins for a Month
Lord of the Spins Casino solved the main problem of Casino bonuses - the fact that they're short-lived.
While you can still have usual deposit bonus (and pretty good one if you ask me), 200 percent up to €2000 + 50 free spins, the main attraction at the Casino is the Free Spins bonus that lasts for a month.
Five free spins a day for 30 days, to be exact.
Thus, if you deposit today, you'll get a free spins bonus for every remaining day of October. And also for a few first days of November.
What's so good about the bonus?
Well, you can't spend it all in one day. And it's 150 free spins in total. Not the usual amount of free spins you get, is it?
30 days are enough to get to know the Casino. One or two days with the 20 free spins or so wouldn't be.
And you can get this bonus with a minimum deposit of €20.
How to Get this Bonus?
Free spins for a month bonus is not automatic one. Thus, if you want to claim it, make sure to follow these steps.
Make your first deposit (€20 or more)
Contact the Live chat to claim your bonus
Remember: this bonus is available only for the new players upon their first deposit. Also, only one bonus per the same household. So make sure to snatch it first if you have a roommate/housemate who also likes playing Slots.
Another thing to keep in mind: when you follow the mentioned steps, you get not one bonus but two:
Free spins for a month (live chat-triggered bonus)
Deposit bonus: 200 percent up to €2000 and 50 free spins for the Book of Dead Slot (automatic bonus)
If you want to have both, there's nothing else you need to do.
If you don't want the deposit bonus, contact the live chat BEFORE you make the deposit.
That's it. Simple, right?
Without further ado, let's go to Lord of the Spins Casino. There's no time to waste.