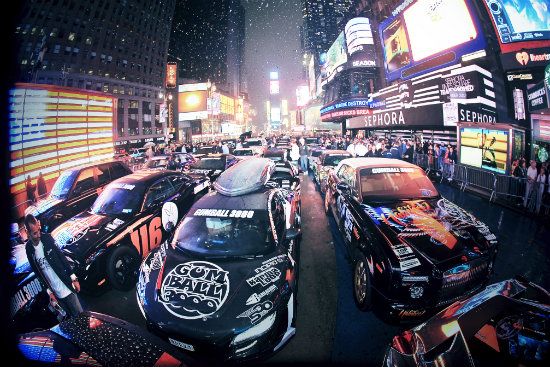 Gumball 3000 Heads to Sin City: What Happens In Vegas...
The Gumball 3000 heads to Sin City on Friday with celebrations including a performance by Tony Hawk and entertainment provided by DJs Deadmau5 on Friday and Diplo and Skrillex as their collaboration JackU on Saturday.
When most people think of Las Vegas, they think of casinos, casinos, and casinos. However, Las Vegas is much more than that - with many events throughout the year that have nothing to do with gambling.
Coming this Friday, the Gumball 3000 international motor rally will be concluding 3,000-mile week-long journey in Las Vegas. In case you aren't familiar with the Gumball 3000, it is an annual motor rally that takes place over public streets attracting some of the finest automobiles and biggest celebrities.
The Gumball 3000 began in 1999 by Maximillion Cooper and his wife and business partner, Julie Brangstrup when the inaugural race featured 50 of Cooper's friends rallying through London to Rimini, Italy and back. Each year, the planned route for the motor rally changes, with some years bringing controversy with drivers sometimes having their driving licences confiscated by local police, and others having their cars confiscated.
The most criticism the motor rally received was in 2007 when according to Wikipedia.org, two pensioners died in an accident in Macedonia in 2007 after their car was hit by a Gumball rally car.
This year's event began on Saturday in Stockholm, Sweden before continuing to Oslo, Norway where according to the Las Vegas Sun, Tony Hawk was on hand to entertain with a spectacular skating demo. Hawk is expected to perform again this coming Saturday at the MGM Resorts Village.
From Europe, $200 million worth of the finest automobiles, will be airlifted on an 11-hour journey to Reno, Nevada, where the rally will continue through San Francisco and Los Angeles, before ending in Las Vegas.
The 100-plus cars being airlifted include Bugatti, Ferrari, Lamborghini, Porsche and Aston Martin involving David Hasselhoff, Afrojack, Bun B, and more celebrities.
In addition to Tony Hawk performing this weekend in Sin City, it is reported that celebrations are expected to include DJs Deadmau5 on Friday and Diplo and Skrillex as their collaboration JackU on Saturday.