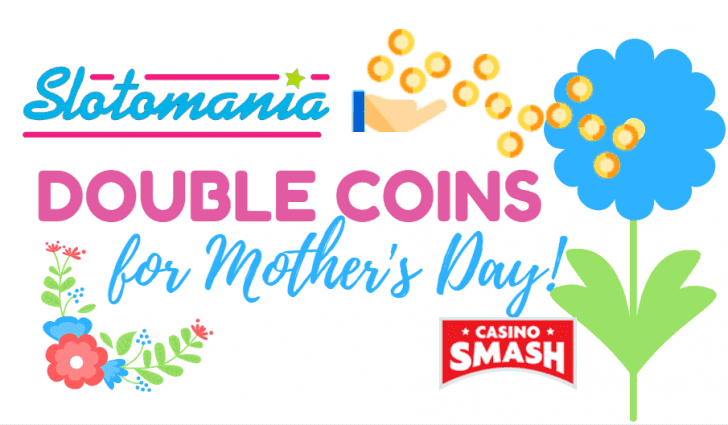 Get Double for Your Money on Mother's Day!
This Mother's Day Slotomania is treating everyone with an exclusive offer: a 100% match on all Slotocard and coin purchases this week!
Make it Double!
This Mother's Day, Slotomania is offering you a way to double your investment when playing slots on one of the best legal US casino applications!
THE OFFER: All coin gifts featured on the site are now worth x2!
This means that if you decide to buy any of Slotomania's coin gift packages, you will receive double the normal value. This works both when purchasing coins for yourself or for friends or family (maybe mom would enjoy some slots)!
So, how does it work?
To claim this offer you would need to sign up for Slotomania and download the app, if you haven't already, and purchase either a Slotocard or coin gift. On the payment page, you will find that you will get double what you pay for to celebrate this special occasion.
What is a Slotocard?
Slotomania's Slotocards are a cool feature where you can collect different sets of cards that can be later exchanged for – you guessed it – more free coins!
You can purchase decks on the app's store, and during this promotion you will be getting twice the number of cards than you normally would! Make sure you claim this 100% match on Slotocards and coin gift packages before Mother's Day passes by.
How Do I Download Slotomania?
If you aren't a Slotomania member yet, then there's a whole other set of treats waiting for you. From a 10,000 coin welcome bonus to yet another 10,000 you get by connecting to Facebook, all you need to do to cash in on these offers is:
Sign up and download the app for Android or iOS
Collect your 10,000 coin sign up bonus!
Connect to Facebook and collect 10,000 more coins.
Enjoy the games!
Read more about how to collect coins the easy way on Slotomania, or get inside information on their features and games in our complete casino review!