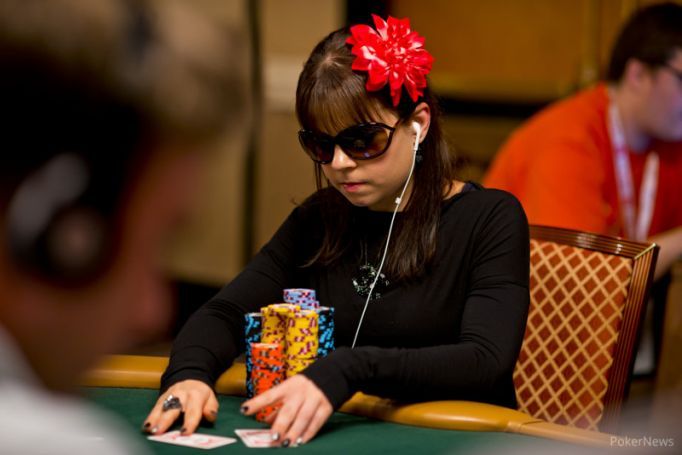 Only in Las Vegas: Annette Obrestad in Shock Venetian Appointment
Annette "Annette_15" Obrestad is The Venetian's new ambassador.
The Venetian, Las Vegas, has made its second bizarre appointment in the space of three months by unveiling Annette "Annette_15" Obrestad as an ambassador for its poker room.
Obrestad shot to fame in 2007 when she became the youngest-ever winner of a World Series of Poker (WSOP) bracelet after taking down the WSOP Europe Main Event in London, defeating John Tabatabai heads-up to secure the £1,000,000 first place prize.
Betfair, then sponsors of the WSOPE, snapped up Obrestad and Tabatabai as Team Pros, but regulations in the UK, which prevent anyone appearing under the age of 25 to appear in gambling advertisements, meant her role on Team Betfair was limited.
Even before her WSOPE Main Event victory, Obrestad had gained a reputation for being a highly aggressive, fearless tournament player. Playing under the alias of "Annette_15," Obrestad crushed online tournament for many years and was once ranked number one in the world by PocketFives.com. The diminutive Norwegian has won more than $2.7 million from online tournaments (including once winning a 180-man tournament after only looking at her cards once), and an additional $3.92 million from her live tournament exploits.
While there is no doubting Obrestad has immense poker talent, her appointment as a Venetian Poker Room Ambassador is strange, not least because the Venetian is owned by Sheldon Adelson, who is online poker's public enemy number one and someone who spends millions of dollars lobbying against online poker.
Not only did Obrestad get her start in online poker, it was rumoured that she did so while underage, something that Adelson has been extremely vocal about in his rants about playing poker on the internet. Throw into the mix the fact Obrestad was a Full Tilt Pro when it was forced to close (under the poor guidance of Ray Bitar and prominent poker pros Howard Lederer and Chris Ferguson), and continued to actively market the now-defunct Lock Poker despite the site having not paid its players in a year, and it is easy to see why members of the online poker community are bamboozled about Obrestad's appointment.
On the Two Plus Two forums, a poster called "TheJacob" wrote: "I feel like the Venetian is trolling at this point," with "roddy" stating, "Wow such a scummy move to work for that guy, after all what online poker did for her."
There was more outpouring of negativity about Obrestad's deal on Twitter, with the Vice President of Player Relations for the Poker Players Alliance, Rich Muny, tweeting:
Very sad to hear this.

— Rich Muny (@RichMuny)
[
Obrestad Joins Erica Lindgren as the Venetian Poker Room Ambassador
As mentioned, this is the second strange appointment by the Venetian in recent months after the Las Vegas casino gave a similar job to Erica Lindgren, wife of Erick Lindgren. While Mrs Lindgren is her own person and an accomplished poker player in her own right, she will forever be linked with her husband and his tarnished reputation in the poker and gambling worlds.
In February 2015, the parent company of PokerStars sued Erick Lindgren for $2,531,807 of which $2 million was from an erroneously wired transaction to his bank account, which he failed to return. The additional $531,807 was part of a loan, which, again, Erick Lindgren failed to repay.
Erick Lindgren filed for bankruptcy in June 2015, claiming he had assets of less than $50,000. He was declared bankrupt three years previous due to owing more than $8 million, including $3.8 million to the Internal Revenue Service (IRS) in the United States of America.