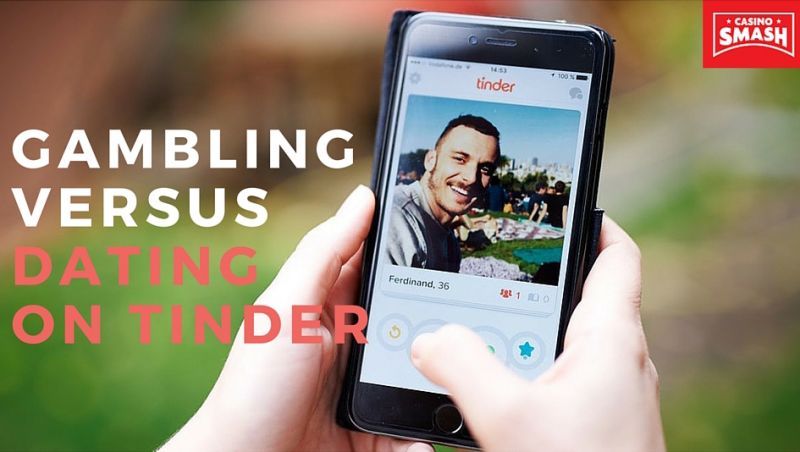 Study: Why Dating On Tinder Is A Lot Worse Than Gambling
Is it easier to win at roulette or to get a decent match on Tinder? We used the New York Times and maths to find out.
Ask your friends how many of them are on Tinder and get ready to hear that they have never even heard of that. Yet, check how many of them:
Blush
Touch their nose or throat
Raise their eyebrows
as they go on to pretend that they never heard of the most popular dating app of all time.
Unless all your friends use Windows Mobile (in this case Tinder-related questions should be the least of your problems), chances are they are hiding something, since those are known to be in body language.
With more than 50 million people active on the app every month, more than 1 billion swipes per day, and over 12 million matches created every 24 hours (Source: ), Tinder revolutionized the world of online dating.
Some love it, others hate it. believes that nothing good came from the tiny app and holds it responsible for a 'Dating Apocalypse' that not even the good old 'Poke' feature on Facebook was able to create.
Not that I would know anything about this sort of stuff, of course.
Ask Google what people think about Tinder and you'll get suggestions like: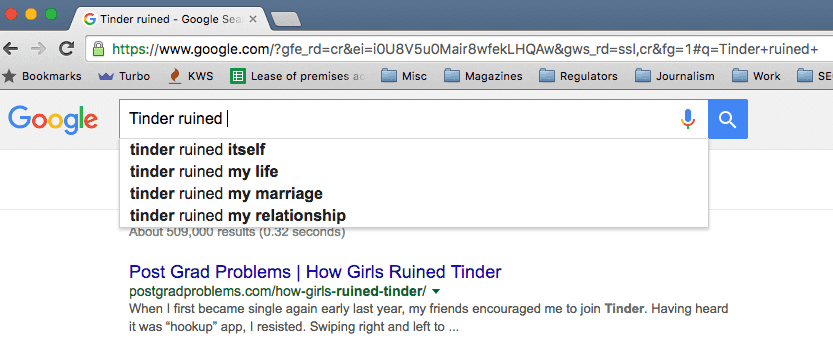 But then, try to download the app, open a profile, and start the swipe game. How is that they all look so happy if the app makes everyone so miserable?
How Hard Is to 'Win' At Tinder?
As a non-Tinder user (obviously, duh!) I am not sure I know what brings people to the app. Some say adult sites use it to advertise their purposes; others believe it's all about one-night stands, the Global Web Index shows that companies should consider jumping on the platform because their consumer-base is there, waiting to be seduced.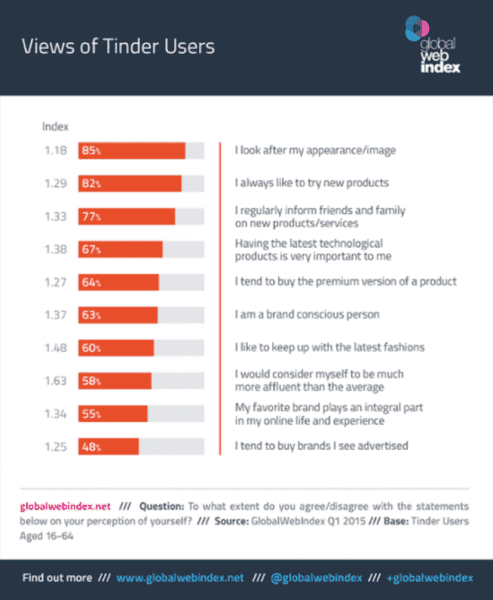 To know more about the app everyone talks about - except YOU, Windows Mobile people - I downloaded Tinder on my iPhone, I signed up for a free account, I created a nice profile with a short bio about myself, and I also added a bunch of nice images. I even connected it to my Instagram account too, since I like to believe that have some pretty cool shots in there.
Let the swipe-game begin.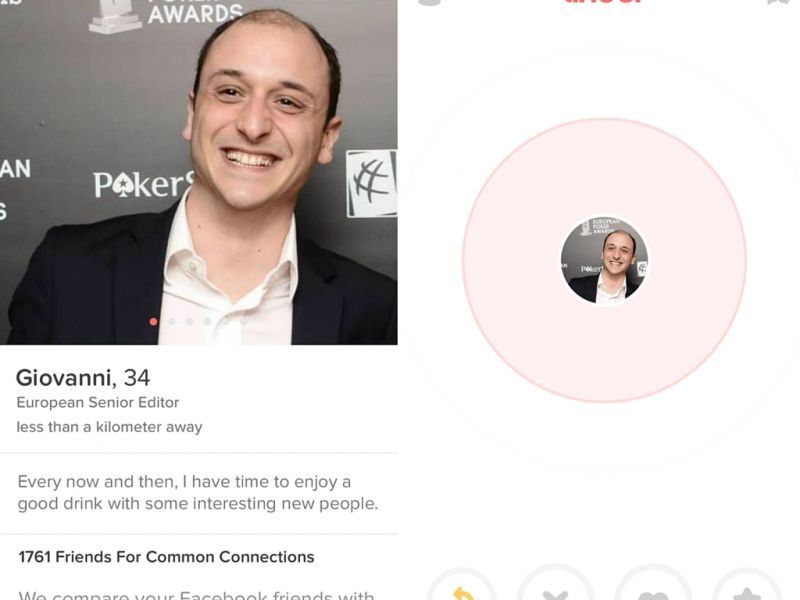 It's Saturday, I am traveling for work, and I am starting to get a bit bored in my hotel room. I think it's time to run a quick Tinder test.
I fire up the app and I start the Swipe-thing. It's fun, nearly addictive I would say. Within a few minutes, I am given my first match, Halyna . She is a pretty Ukrainian lady who lives in London and, like me, is traveling alone and has no one to go out with.
Perfect.
Her pictures are quite nice. She doesn't look like the one-night-stand kind but again, what do I know?
We talk a little, but the fact that she uses more smileys than words is terribly annoying. And then the gifs. She's 31, I am 34, and I just can see how terrible would be for two people like us to go on a date. Is she the kind who shouts "LOL!" after a mediocre joke? Is she one of those who say "wink-wink" while they wink?
Unmatch. Next.
While I was messaging with Halyna, the app gave me another match. Apparently, Laura swiped right on my photo too. I feel popular and appreciated.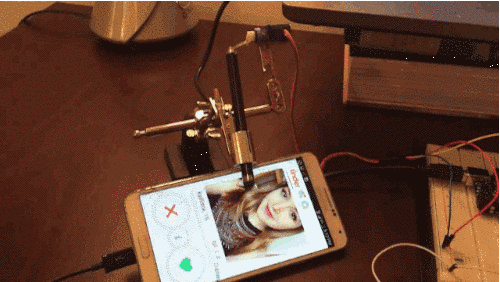 Laura is 28, and she writes that "elegance tends to be mistaken for superficiality and mere appearance," on her profile. She must be a deep person. I like that.
"Hey," I go. "How's the weekend treating you?"
Silence.
I like to think that her phone went off or that maybe she dropped it from the edge of a fancy infinity pool right while she was tapping her reply to my message with perhaps a little too much enthusiasm - but the chances are that I need to work a bit more on my opening line.
For about one hour, my matches and I do our very best to destroy what Tinder creates. Terrible opening lines, ridiculous conversations, extremely poor grammar - you name it.
Be it as it may, I logged in to find someone interesting for a drink, and all I've got was a bunch of boring conversations and two ladies who invited me to discover (a lot) more about them. At $4.99 a minute, and on a different website.
Thanks, but no thanks.
Sixty minutes after I decided to start my journey on Tinder, my dreams about a crazy night out with a terrific match are already gone. I am still on my couch, I know that's not going to change anytime soon, and I have the feeling that I may have just wasted an hour of my time.
I need to know why people use it.
So, Did I Do It Wrong?
Although the guys at the Match Group, Tinder's parent company, do not like to share numbers - I found some stats showing that I might not have been particularly unlucky
According to Nick Bilton the app to generates approximately 1 billion swipes / 12 million matches a day. Tinder's official website shows a slightly , but I believe that has to do with PR too.
| Source | Swipes/day | Matches/day |
| --- | --- | --- |
| New York Times | 1,000,000,000 | 12,000,000 |
| Tinder | 1,400,000,000 | 26,000,000 |
In his article, Bilton shares also that "The company said that, on average, people log into the app 11 times a day. Women spend as much as 8.5 minutes swiping left and right during a single session; men spend 7.2 minutes. All of this can add up to 90 minutes each day."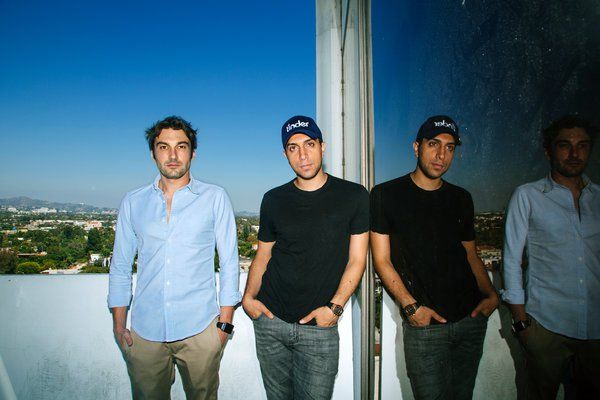 Provided that you can afford to spend up 90 minutes on Tinder every day, let's do some math and let's calculate how easy is to find a match.
The numbers we know:
1.400.000.000 total swipes every day
12.000.000 right swipes (likes) every day
1.388.000.000 left swipes every day
So, let's play.
Right swipes / Total swipes = Chances to get a match
12.000.000 / 1.400.000.000 = 0.857%
Even better:
Left swipes / Total swipes = Chances NOT to get a match
1.388.000.000 / 1.400.000.000 = 99.14%
Wow. Just, wow.
Ant that's nothing. Stats show that you have 0.857% chances to find a match (not even the right person!) every time you swipe right - but the game is dramatically harder if your photos, your facial hair, your clothing, and your job don't play in your favour.
According to a post published on Tinder's official site on February 24, women are more likely to swipe right when they are offered to meet a pilot, a founder / entrepreneur, a firefighter, and a doctor, while men prefer physical therapists (no, really), interior designers, founders / entrepreneurs, PR specialists, and teachers.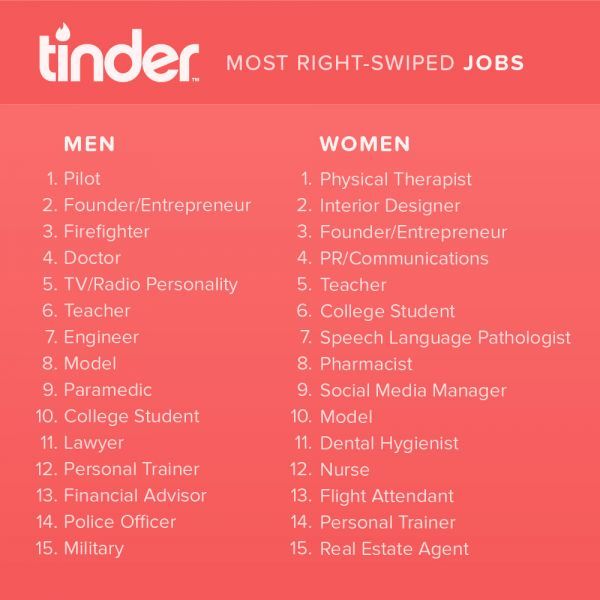 In other words, if you are a male plumber or a female doctor - don't even try. No one wants you on Tinder.
That's not all. Not only men account for 62% of the total number of users, but some interesting stats from TheChive show that women are also a lot less likely to swipe right than them.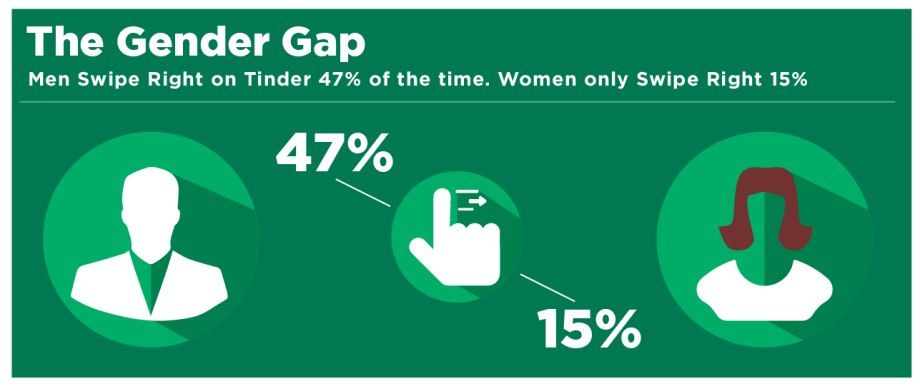 And, when they finally do so, they do it when their potential match shows some facial hair.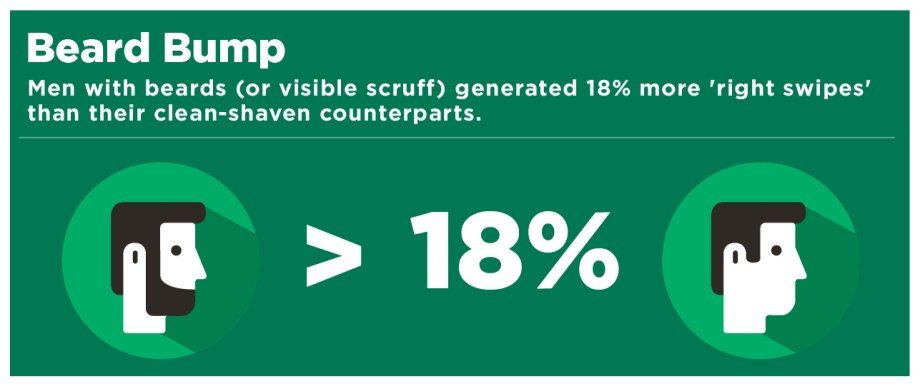 "Women will swipe right 74% of the time when shown a man with well groomed facial hair. These men also receive 37% more matches than men without facial hair" (Dating Sites Reviews).
There's more. According to the NYT "the style of clothing, the pucker of the lips and even the posture," are also elements that people consider in that tiny fraction of a second when they decide if they like a person or not.
Result: as a semi-bald male journalist who likes to shave his beard - I stand no chance at the Tinder game. I am done.
Conclusion
It's Saturday, I am still alone, and my adventure on Tinder didn't go as planned.
As a gambling writer and a player, I am used to thinking about odds and probabilities ALL THE TIME. That's why I don't like what I found out about the popular dating app.
People say online casinos are rigged, and gambling is bad because the players never win - but, what about Tinder-dating?
When I play blackjack, I like my odds. I know that I can win if I play my cards well.
I know that when the dealer stands on a soft 17, the dealer will bust about 29.1% of the time. I know that if the dealer chose to hit on a soft 17, the percentage of the dealer to bust goes up to 29.6%. And I like that.
When I play roulette, I like my odds too. Look at the great image below provided by Betfair. I can place a crazy straight up bet and win (BIG) 2.7% of the times, or I can choose to play it safe and go for colour bets, even/odd bets, or low/high bets and win 48.68% percent of my games. That's nearly 50%!
If you rely on Tinder to find the love of your life, there are good chances that you will stay single forever. If you use Tinder to find someone to spend the evening with, the chances are that you'll spend more time on Netflix than you imagined. If you use Tinder to kill time - you are doing it right.
If you are one of those who believe that online casino gambling is rigged and that players stand no chance to win, think about Tinder, look at how many matches you get during your daily 90-minute swipe, and then look back at the numbers in this article.
If only you'd spend less time looking for something nearly impossible on Tinder and more time on one of these casino games, not only you'd be a lot richer - but you could also meet someone who enjoys your favorite pastime as much as you do and finally have a (real) match!
***
P.S. After my miserable attempt at dating on Tinder, I did what I am used to: I went to the casino, I ordered a drink, and I started to play slots. Guess what? I won.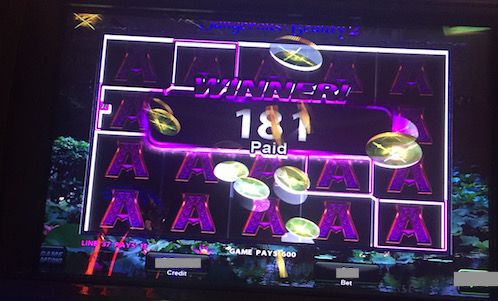 Lead image courtesy of: Mashable
Disclaimer: Gambling is a game of chance and there's no sure-fire formula that guarantee winnings. You can improve your winning chances by using the right in-game strategies but there is no way to predict when a machine or a Casino game is going to pay. Also, this page contains affiliate links. If you click through and play, we might earn a commission. That's what allow us to keep CasinoSmash free and bring you the best online Casino bonuses!