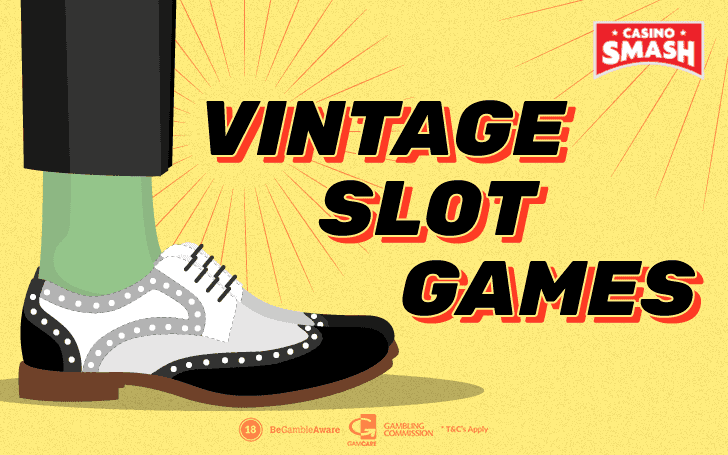 Retro Reels: Three Vintage Slot Games to Win Real Money
Looking for a way to play Retro Reels video slot machine for free with a lot of free spins? Check out my latest piece about ALL the Retro Reels game saga!
A lot of people out there are in a vacuum when it comes to gambling games.
These are the folks who enjoyed playing old-school slots in traditional casinos and want to get the same experience at home.
If you are the type of person who prefers playing retro slot games online, then we have some great news for you.
Microgaming has recognized the need for these online slots and created three vintage-style slot games that you can play at home, betting real money.
The Retro Reels slot machine games are pretty similar to traditional slots, but they can be played online and have various upgrades. These games have everything you need to have a fun time and the gaming experience is all that you'd expect from an old-school slot, and then some.
Microgaming has taken it a step further by throwing in some modern elements, which let the fans of classic slots know that they haven't been forgotten.
Here are three great Retro Reels slot machine games that will bring you hours of fun.
1. Retro Reels
Retro Reels was the first and most vintage-looking game to be released. This game is all about Vegas and it has an elegant simplicity about it. If you want to go full vintage and feel like you are in a casino, then this is the game for you.
Win money old-school style and get that familiar feeling you crave for. Not only will you be getting all the characteristic old Las Vegas features, but you will also get some new ones that will make the game even more exciting.
About Retro Reels
The new retro reels slots game comes with 5 reels, accompanied with various bonus games, respins, and scatter symbols. The bets go from a minimum of 1 coin, up to a maximum of 20 coins.
Each coin corresponds to a payline designated for it, depending on the coin value, which goes from 0.01 to 0.25. When you increase the coin value and the number of coins, you become eligible for the maximal reward.
Retro Reels Wins
Like with most traditional slots, Retro Reels also comes with a paytable where you can see all the winning combinations.
The paytable can be accessed by any player through the main screen, by clicking on the "view pays" button. All the winning combinations go from the left to the right of the reel.
This means that you need to have at least a single winning symbol on the reel furthest to the left. The winning combinations only pay out when they stop on paylines that are currently enabled. This excludes scatter symbols.
Bonus Symbols
The only bonus symbol in Retro Reels is the scatter symbol. These symbols can stop at any place on the reels, no matter if it's an enabled payline or not. With a minimum of two or even more scatter symbols, you can chain a winning combination or activate the bonus game with free spins.
For every single bonus symbol you get, you will be awarded five additional free spins.
However, to get additional free spins through the bonus spin, you will have to get two bonus symbols. When playing free spin bonus games, all the wins that you get are doubled, meaning that the maximum potential win is 100k credits.
Respin Feature
Retro Reels also comes with a respin feature. This allows you to spin a single reel after you've made your spin while all the others remain in their place.
Every respin requires an additional bet, and if you get a winning combination through it, your wins will be the same as if you got the combination on the first spin.
2.Retro Reels: Extreme Heat
The Retro Reels Extreme Heat is a free Retro Reels slot machine game which brings all the traditional fruit symbols such as lemons, cherries, and others to the table with a fiery flare. This is a brand new exciting mixed slots game, with a combination of vintage and new elements.
You can play it for free, but you can also go for the prizes if you like the adrenaline rush, the choice is yours. If you want a classic Las Vegas casino slot experience, then this is the right game for you.
This is a perfect video slot game where you can actually make an impact on your winnings. It has great designs and music that follows you in the background. A perfect mix for those players who enjoy vintage slots, but would like to see something fresh added into the mix.
About Retro Reels: Extreme Heat
It also has 5 reels with 3 rows and a total of 30 lines. It's the second edition game of the Retro Reels series released by Microgaming and at its core, it's not much different from the first game.
However, it brings a little bit more fiery excitement and special flare. The biggest difference lies in the design and visuals, as the interface and reels are all covered in flames, and the symbols include flaming bar signs and sevens.
Retro Reels: Extreme Heat Bonus Basic
Extreme heat also has a Free Spins bonus feature, which is triggered when you get a minimum of three scatter symbols.
The respin feature works the same as with the first edition of Retro Reels slot, where you can spin individual reels while others remain stationary.
You can also re-trigger the free spins once again. The difference with this game is that you can get multiple respins, depending on how many scatter symbols you got during your first spin.
Wild Symbol Feature
Like most other free Retro Reels slot machine games, this one has a wild symbol feature. It can help you form winning combinations on your active lines, as it works as a substitute for all other winning symbols. However, it doesn't substitute the scatter symbol.
3. Retro Reels: Diamond Glitz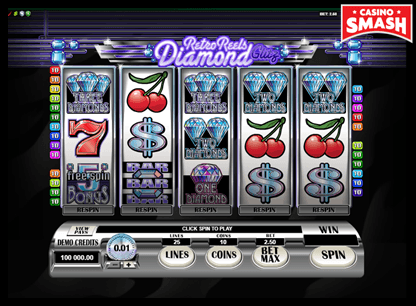 If you are an old-school player that wants to pursue maximum glamour in a vintage slot game, then play the most advanced online edition of Retro Reels – "Diamond Glitz".
This game offers the classy and exotic experience of vintage slots but it also enhances the playstyle with new concepts and technologies. It's a perfect choice for players who want that familiar traditional slots feel in a classier package.
About Retro Reels: Diamond Glitz
Diamond Glitz has 5 reels, 25 paylines, and 3 rows. It's certainly one of the most exciting crossover slots that combine a vintage playstyle and look with modern features, visuals, and animations.
You can play this Retro Reels online game for free or with real bets.
It has a very straightforward and simple gameplay, and everything runs very smoothly. It pulls in players instantly and makes them wonder how the time could have passed so quickly.
This is the pinnacle of Microgaming crossover vintage slots – they wanted to make the game as vivid and interesting as possible. Even the hardcore old-school players are blown away by this game and quickly accept the new things that were added to the gaming experience.
Respin Feature
Like all other Retro Reels slot machine games you can play, Diamond Glitz also has a respin feature. However, the bet you are required to make for a respin changes depending on the probability that this respin will actually get you a win.
Similarly to other free Retro Reels slot machine games, respins are also complemented with scatter symbols that give you an opportunity to use free spins.
With 3, 4, or 5 scatter symbols on the screen, you can get 15, 20, and 25 respins. It has the most sophisticated and highest-win chance respin feature among all the Retro Reels games.
Diamond Glitz Wins
Not only does Diamond Glitz have amazing visuals and exciting features, but it can also bring you amazing wins.
The Free Spins feature alone offers you a potential jackpot that is worth 440k coins! Cherry symbols have a 200x return when you get 5 of them on your payline.
The bell and the 7 give 250x rewards. Get triple or double diamonds and get up to 500x wins. If you get 5 of them, you will get 10k x for the current number of credits that you have on the line and much, much more.
These are the three Retro Reels editions that vintage slot players will love. The only difference between them is that each edition adopts more modern features to make the game more interesting. The only question you need to ask yourself is which type of game suits you best.
Disclaimer: Gambling is a game of chance and there's no sure-fire formula that guarantee winnings. You can improve your winning chances by using the right in-game strategies but there is no way to predict when a machine or a Casino game is going to pay. Also, this page contains affiliate links. If you click through and play, we might earn a commission. That's what allow us to keep CasinoSmash free and bring you the best online Casino bonuses!