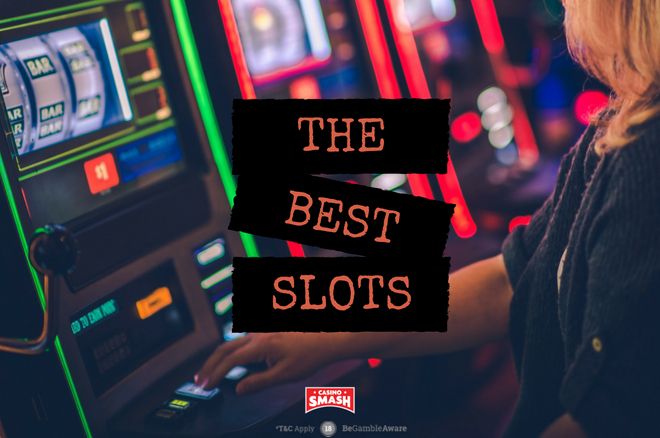 The Most Popular FREE Online Slots for US Players
With so many mediocre games out there, I think it was about time someone took the initiative to create a list of the bestSlots available to US players. That's right. If you are into Slot machine games, this is the only article you...
In this article, you find all the best Slot machine games you can play online if you are in the US.
That's right.

If you are into Slot machine games, this is the only article you need.
Because I list here all the top games you can play right now. And I even give you no deposit bonuses to try all these games for free.
Boom.
I spent a good part of the last three months analyzing (read: playing) hundreds of games.
I downloaded nearly all the Casino apps you can find on the AppStore and GooglePlay and opened an insane amount of new accounts.
The results?
There's only a handful of Casinos that offer high-quality games to US players in a safe environment. The rest is crap.
For real:
The number of mobile Casino apps that tried to steal my data, to get access to my mobile camera (seriously!?), and that posted on my (fake) Facebook profile is insane.
Pay attention, folks. Malware apps are a real thing - and you don't want to get any of those damaged goods close to you.
So, the best Casinos with Slot games for US players are:

Slotomania
House of Fun
Viva Slots
Billionaire Casino
Win Fun Casino
The best part?
All these casinos welcome you with a no deposit bonus. No real money involved - only fun.
So, let's look at the numbers. And remember, no deposit is needed to claim these bonuses.
Now that we are done with the Casinos, let's get to the important stuff:
The Slots.
Whether you prefer classic Las Vegas Slots like Rapid Ruby or something more advanced like Age of the Vikings, the list below has something for you.
The Best Online Slots You Can Play Today
So, let's dive right in and let's discover what are the best Slots you can play in 2018.
The best one - according to me, of course.
Xin-Fu!
Let's start with a game that comes with stunning graphics and a never-boring soundtrack.
The Xin-Fu! online Slot game is an explosion of golden dragons, frogs, turtles, and gold coins - all there to help you reach immense riches.
Available on the Slotomania Casino app, this is one of the most exceptional Slots game on this list. High volatility and stunning graphics make it my favorite.
The best symbol here is the Bonus Wheel. Collect three of them to reveal the bonus of five free spins. Gather five of them at the same time, and the free spins will become 15.
From there, only the sky is the limit.
Civilitreasures
Civilitreasures, aka. when Civilization becomes a Slot machine game.
Open this game, and you'll join Ferdinand Magellan, Afanasy Nikitin, Christopher Columbus, and other famous explorers on an exciting trip through the world's most amazing wonders.
The highlight of this game is the Temple Adventure bonus, which you trigger when three globe symbols appear on the reels at the same time.
If you are in it for the free spins, make sure you play until you hit Five Scatters and start a 30 free spins journey around the world.
Vegas Cash
I know lots of players don't spend much time on this game because it's the first one available when you open Slotomania, but I think Vegas Cash deserves a second chance.
Even though this Slot is free from the get-go and you don't need to do anything unlock it, this doesn't mean it's not a great game. Not at all.
My impression is that Vegas Cash might be one of the best Slots on Slotomania.
This is a feature-rich game where everything is designed to make you feel part of an exclusive club of high rollers. Even if you play for pennies.
Kitty Gems
Welcome to Casino Online the modern version of Kitty Glitter, the Slot we all like to play…even if we hate it.
Kitty Gems is not a game for everyone, but if you are into cats (disclaimer: I LOVE CATS) you need to spend some time on it.
Filled with all sorts of cats and shining diamonds, Kitty Gems is going to put a smile on your face from the first spin. And - wait until you hear the music!
Do you want to win big?
Collect from three to five bowls of shiny gems to start your free spins bonus round!
3 Tigers
As the name suggests, the 3 Tigers Slot machine features…three tigers, duh. A white tiger, an orange tiger, and a black tiger.
This Chinese-themed Slot machine is a great one to jump in one of the most popular Slots themes right now.
But so - what do the three tigers do?
Every time the Tigers appear on the reels at the same time, you get a Tiger Eye. Collect 20 of them, and you'll pocket a jackpot of 1,000,000 coins!
Frankenstein
Frankenstein from House of Fun is the definitive game for horror fans.
A mad scientist, a damsel in distress, and the titular Frankenstein's monster will keep you spooked for as long as you play this game.
And perhaps a little longer, too.
A spooky atmosphere, a well-matched soundtrack, and the usual great graphics you'd expect from a game at House of Fun are what make this one of the best Slots you can play.
The prizes on tap are scary too - but in a good way. Especially as free spins can be trigged and re-trigged until you get up to a staggering 100 of them.
Rapid Ruby
If you are not into classic Slots just skip this one. But, if you do…say hello to a great Slot game for you.
Rapid Ruby is one of the top classic Slots you can play today. The game features all you'd expect from a Slot machine of its kind with diamonds and sevens battling to find a spot on the reels.
Rapid Ruby features two different Wilds that substitute for any of the game's symbols and multiply your bet by two or three times.
And, there's more:
Because if you get three Rapid Rubies on the reels, you get a x200 multiplier.
Triple Double Sapphire
Classic sevens, cherries, and bars? Count me in!
Triple Double Sapphire is another Slot machine for hardcore classic Slots players who aren't into the bells and whistles of modern video Slots.
If you are looking for a brick-and-mortar gambling experience, this is the one.
Also, there's a substantial x2160 multiplier that can boost your wins to mind-blowing sums so - yeah, this game is definitely worth a spin. Or two. Or three.
Wild Super Stars
Here for another engaging game every Las Vegas fan should play.
This Slot machine offers something special. With each spin, you get a multiplier on a separate reel to power-up your winning by as much as 25 times.
While the game isn't the most terrific one on this list (really, it is not), the chance to score a big on every spin is what makes Wild Super Stars one of the top games to play if you are on the lookout for supersized prizes.
Huuuge: Quick Jackpots
Visit Billionaire social Casino to dive straight into a Slot game with five progressive jackpots!
Huuuge: Quick Jackpots is one of my favorite Slots, and I think it shouldn't be too hard for you to understand why.
The game's graphics are relatively simple as this falls into the family of classic Vegas Slots too. The symbols on the reels include cherries, lucky sevens, bells, bars, and Huuuge Hit bonus symbols.
Hit at least five bonus symbols at the same time and you'll win one of the five progressive jackpots. Just like that.
Temple of Ra
Egyptian Slots have been featured in any lists of the top Slot machine games since decades. That's why you will always find a good number of them at any casinos.
Some games are dull and some are truly enjoyable. Temple of Ra at Billionaire Casino rocks the mysterious theme of Ancient Egypt.
Its game art is flawless and the music does a great job at keeping you engaged. The symbols on the reels include various Egyptian gods and goddesses, crocodiles, and treasures.
The Scatter chest gives you eight free spins, and the Bonus symbol rewards you with up to 100x your bet.
Sultan's Palace
After Egypt, it's time to move to the Middle-East and enter the world of Arabian fairy tales from a privileged entrance, that one of the Sultan's Palace.
This beautifully crafted online Slot machine features five reels and 25 paylines. The reels depict a few charming characters, magic lamps, and a tiger.
The Scatter symbol of a treasure chest rewards you with free spins. The wild symbol, Aladdin, substitutes for all the other symbols except the Scatter.
Diamond Strike
Diamond Strike is a fun and dynamic game available at Win Fun Casino.
Featuring five progressive jackpots, this Slot machine gives you the chance to win big as soon as you collect at least five diamonds on the reels.
This, however, is not the only combination that will put a smile on your face.
The Diamond Wild substitutes for all the sevens, cherries, lemons, watermelons, plums, and bars found on the reels contributing to create countless winning combinations!
Indian Totem
Are you ready to line up some Totems?
Indian Totem is a beautiful looking Slot machine game with a soundtrack that will surprise you for sure.
While the Native American theme might not be the most popular one in the world of Slot machines, this game is a true gem that I wish more player would discover.
With 100 paylines and standard features like scatter and wild symbols, this is a beautiful game that I am sure deserve a place in the list of the top Slots to play.
Age of the Vikings
Last, but not least, meet Age of the Vikings, another fun Slot machine game with an exciting gameplay and the same top-quality graphics of the other Slots on this list.
Once you are done with the North American plains of India Totem, get ready to cross the Ocean and head to the heart of Norse mythology with this beautiful game.
And, do not worry.
If the land of elks and snow is foreign to you, ships full of brave Vikings will always be ready to come and help you get the treasures you deserve.