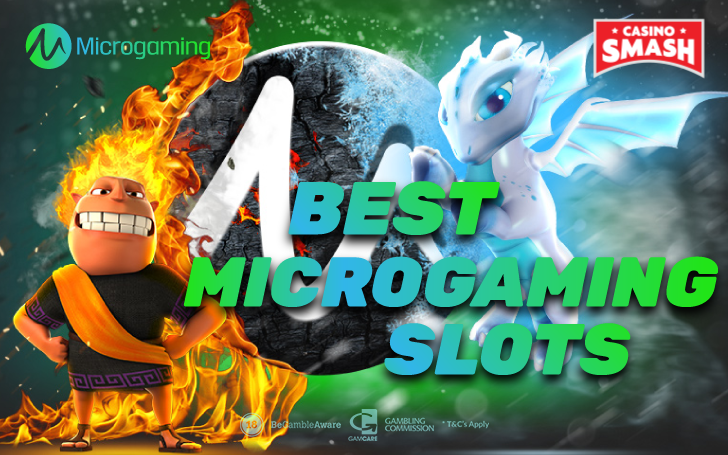 Top 10 Best Microgaming Slots of All Time
What do 24 years of expertise in online Casino gaming bring to us? Play the best Microgaming Slots and find out!
Also in 2019, Microgaming Slot machines are amongst the most played ones in the world
The company has been producing Casino games for more than 24 years
Here's a list of the top Microgaming Slots to play in 2019
If there's one Casino software developer all players have heard of, it is definitely Microgaming.
Operating since 1994, Microgaming manages to create Casino games that have taken gambling by storm more times than I could count. Play the best Microgaming Slots and you'll see why.
Microgaming Casinos seem to always be the first in online gambling. And Microgaming games have always been the first ones in any kind of gambling breakthroughs up to now.
First online Casino? Check.
First mobile Casino? Check.
Biggest Jackpot Slot online? Double check.
Don't get me started on their 24 years of expertise in online gaming. 24 years of many entertaining Casino games and especially Microgaming Slot machines.
Being familiar with all Microgaming games is practically impossible. There are too many of them.
But not knowing any of Microgaming Slot machines is a sin.
Thus, here's our list of Microgaming Slots. Check the Slots, choose the ones that fit your interests, and play.
You cannot go wrong when choosing the best Microgaming Slots to play.
You'll see.
The Best Microgaming Slots of All Time
Some things don't go out of fashion. You can apply this everywhere, including Casino gambling.
Gambling itself is as popular now as it was hundreds of years ago. And it's true that games change, improve, and develop. But some become such classics that no one can imagine Casinos without them.
Yes, that's what I call the best Microgaming Slot machines of all time. And you will soon find out why.
Thunderstruck II
There are only a handful of Slot machines that almost every (real) online Casino player has tried. That would be Starburst from NetEnt, Book of Ra from Novomatic, and Thunderstruck by Microgaming.
Thunderstruck Slot is dedicated to the mighty Asgardian god Thor.
Sorry AC/DC fans, it's not a tribute to the song.
Microgaming created the Slot in 2004 and released the second version of the game in 2010. For years, players enjoyed this Slot so much, that it was the center of many promotions at online Casinos.
And you can still find the Thunderstruck II Slot at many Casinos.
What's all the fuss about?
The Slot is not too complicated - it has a 5x3 reel structure and 243 betways. That was an upgrade from the original nine paylines in the first version of the game.
The RTP got an upgrade, too - the second version reaching the return to player of 96.65 percent.
Although it's a pretty old Slot machine, it has all the modern and classic features. Wilds, scatters, free spins, substitution symbols, a multiplier - you name it.
Plus, the graphics and sounds are pretty good, considering the Slot is almost eight years old.
Play Thunderstruck II and see for yourself!
Break Da Bank
A bit less known but still one of the most popular Microgaming Slots is Break Da Bank.
It's one of the best classic Slots you can find online to play for real money.
The Slot has three reels and the same number of rows. Also, five paylines. Though, you can adjust on how many you want to bet.
It may lack modern Slots features fans love, such as bonus games or scatters. But the game does have wilds and multipliers.
And it will appeal to anyone who misses the good old classic Slot machines. And their typical symbols - single, double, and triple bars, dollar signs, and wilds with the logo of the game.
The payouts of symbols are on the same screen as the reels, making it even simpler to find everything you need to know about the Slot.
So, do you miss that nostalgic feel of retro Slot machines?
Play Break Da Bank - the Microgaming Slot that has it covered.
The Best New Microgaming Slots in 2019
While Thunderstruck and Break Da Bank can be called the best Microgaming Slots of all time, they are definitely not new.
So, what is Microgaming up to this year?
Let's see.
Robin of Sherwood
Adventures are always exciting, even in Slots. But add a super adventurous character and it gets even better!
Robin of Sherwood is exactly that.
Microgaming released the game at the beginning of July. The Slot promises a top-notch quality, bonus features, gamble game, and many other special features.
That makes this Slots game as exciting as adventurous Robin is.
The Slot has five reels and three rows and is set in the fabulous Sherwood Forest. Nature and calm medieval melodies might not signal excitement right away but there are 243 ways to win on this Slot.
Robin's arrows work as wilds. There is a random Wild Turning Feature that can turn all Royal symbols on some reels wild. That also triggers free spins.
The Gamble feature is very authentic too. Instead of guessing the playing card suit or coin flip outcomes, you shoot an arrow to one of the targets in front of you. Hit the center and double your winnings.
How are your Slot archery skills?
Play Robin of Sherwood and find out!
Diamond Empire
Again, a game that any retro Slots fan will enjoy.
Diamond Empire is a luxurious Slot machine. It has the classic symbols - bars, cherries, sevens, diamonds, and bonus icons. And the classic structure - three reels, three rows, and 15 fixed paylines.
Only the high-quality graphics, animations, and captivating soundtrack will reveal that the Slot is a product of 2019.
The reels are set within a diamond fresco and everything in the Slot screams 'luxury'.
The game is not complicated or filled with unnecessary features. It gives you a chance to sit down, enjoy, and spin the reels. Or watch how they are spinning and your bankroll is changing.
If you prefer the autoplay function, that is.
Play Diamond Empire and get a taste of luxury retro Slots!
Temple of Tut
Temple of Tut is another exciting Slot machine released by Microgaming this year.
It has five reels, three rows, 10 paylines, and an Egyptian theme. Sounds familiar? Because it is. Many online Slots fit the same description.
So, where does the Temple of Tut stand out?
First, you can win both ways. Then there are Super Reels that have stacked wilds. And, of course, you can trigger up to60 free spins.
Not too bad, right?
While the theme is rather simple, sometimes that's all you need.
Egyptian tunes and pharaoh or artifacts symbols do make the Slot authentic. But there is no real way to say if the Slot is that much better than other Egyptian Slots.
Unless you love free spins.
Then, it's definitely better.
Enjoy the simplicity and free spins - play Temple of Tut now!
The Best Microgaming Branded Slots
Microgaming might not be the provider that has the most branded Slots online. But they definitely have the best ones out there.
Think the cult movies, popular TV series, and classic video games. Microgaming won't disappoint you when it comes to the themed Slots.
Game of Thrones
Whether you are a fan of Game of Thrones or not, you gotta admit, it's one of the most popular TV series of this decade.
There's bound to be a Slot based on it and Microgaming made that happen.
The Game of Thrones Slot has five reels and three rows and as many as 243 paylines. You won't miss the bonus rounds, multipliers, wilds, scatters, or free spins if you choose this Slot.
And Game of Throne fans should definitely choose it.
The Slot features short clips from the series, music, and symbols that will remind you of the TV show.
The Game of Thrones logo works as stacked wilds. It can replace any other symbol except the Throne. Landing three of more Throne symbols on the reels activate the Free Spins Feature.
This Microgaming Slot machine also has a Gamble Feature. It works like in many other Slots. You win, you press the Gamble button, and enter the gamble mode.
There you visit four map locations and at each of them, you need to guess which side up the coin will flip - heads or tails. Each correct guess multiplies your winnings, but if you guess wrong, you go back to the main game.
Ready to live out Game of Thrones? Play the Slot now!
Hellboy
Another badass branded Slot by Microgaming is Hellboy.
Based on the notorious superhero, the Slot features all the characters associated with Hellboy. It also has a very fitting comic book-style graphics and a catchy soundtrack.
The Microgaming Slot Hellboy has a three-row five-reel structure and 20 paylines. It packs bonus rounds, the gamble feature, the wild symbol (Hellboy logo), and scatters (Hellboy's right hand of doom).
Three or more scatters activate the Underworld Bonus game.
Here, to find his teammates, Hellboy needs to pass four tunnels in the underworld. Each tunnel may award you with a random bonus. But also they may be a bust.
Do you like Comics? Give Hellboy a try.
Or at least check it out anyway, not every day you find a Slot machine with a really cool soundtrack.
Playboy Gold
Okay, Playboy may not be a movie, comics, or TV series but it is definitely a worldwide-known brand. Thus, it deserves its place on this list of Microgaming Slots.
Playboy Gold is a new game in the Casino games industry, released only this year. And it still managed to become a popular game at online Casinos.
I am not going to speculate why.
But let me tell you this, the name is not the only special thing about this Slot.
First, it has a unique reel structure - six reels and 10 rows. That gives you a total of 100 paylines.
Plus, the reels are not all you see. Two lovely Playboy playmates stand on each side of the reels, in the typical Playboy bunny outfit.
The Slot features more Playmates, too, as they announce you about your big wins, respins, and other triggered features. You can land some of the girls directly on the reels!
And the music is pretty entertaining, too,I'll give you that. Not your typical Slot machine tunes.
Even if you don't like the Playboy brand, the Slot is worth a try.
Play Playboy Gold at Omnia Casino now!
Tomb Raider
A computer game, then a movie, then another movie again. Tomb Raider doesn't need an introduction. Not now, not when the first movie showed up.
But did you know that there is a Tomb Raider Slot machine, too? Well, there is, and for quite some time now.
This Slot was released in 2004. While it features slightly-outdated graphics, it shows how good Microgaming Slot machines were even 14 years ago.
The game will appeal to anyone who used to play Tomb Raider in late nineties or the beginning of the century. Or were the first ones to watch the new Tomb Raider film this year.
The Slot has five reels and three rows, a total of 15 paylines which you can adjust if you like. Lara Croft herself is the main symbol, in her typical attire and with a gun in her hand. You can also land wild animals and ancient artifacts such as sculptures of gods.
The Tomb Raider Slot may lack on the graphics and soundtrack part. If you like soundtracks in Slots, that is. But this Microgaming Slot has free spins, multipliers, and a Tomb Bonus.
You trigger the latter when you land three or more Bonus Idols on the screen. It opens the tomb and you have a choice to make - one of the three Idols are yours to take. Once you make the choice, it reveals a hidden treasure.
How many online Casino games from 2004 are as popular as Tomb Raider today? Few. Microgaming Slots speak for the provider. Even the oldest ones.
Microgaming Progressive Jackpot Slots
The biggest progressive jackpot that has ever been won ended up in the Book of Guinness World Records. And that Slot was developed by - you've guessed it - Microgaming.
Thus, if you search for Microgaming online, most of the information will be related to one Slot machine - Mega Moolah.
Mega Moolah
The Slot is so popular for one reason: it's the biggest Jackpot Slot you can win online.
The biggest winning that broke the records was £13,212,882 and went to a player from the UK. And it was triggered by a £0,25 spin.
What a lucky bastard.
You think that's a one-time thing, though?
Not really.
On average, the Mega Moolah progressive jackpot always reaches millions. And it's won every nine weeks or so.
Currently, the Mega Moolah Mega jackpot is more than £13,4M. And a lucky player hit the jackpot - what a coincidence - nine weeks ago.
Is it going to pop soon? We'll see.
But the fact stays: it's the Slot known for making millionaires.
Are you gonna be one of them?
Disclaimer: Gambling is a game of chance and there's no sure-fire formula that guarantee winnings. You can improve your winning chances by using the right in-game strategies but there is no way to predict when a machine or a Casino game is going to pay. Also, this page contains affiliate links. If you click through and play, we might earn a commission. That's what allow us to keep CasinoSmash free and bring you the best online Casino bonuses!
Bonus info: terms and conditions apply to the offer. If something isn't clear, have a look at our review of OmniaCasino for the T&Cs in full. The offer on this article might have expired by the time you read it. Please refer to the review pages for the latest bonuses and promotions available.