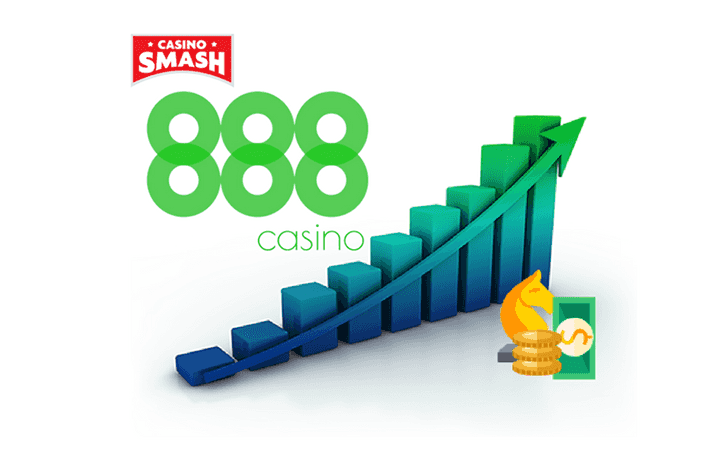 888 Group Collects Over $520 Million in Record Year!
888 Holdings Group announces its financial results for the previous year, and their annual revenue for 2016 reached a record high of $530.8 million!
Get an inside look into 888 Holdings Group's revenues for 2016, and how their financial year forecasts future trends for the online casino industry as a whole.
Casino Revenue is through the Roof!
888 Holdings Group, whose portfolio includes the massively popular casino site 888 Casino, achieved a record high annual revenue by reeling in a massive total of $520.8 million across all value offerings.
When comparing the income of various revenue streams, the highest returns came from casino activities, which includes all casino games aside from poker, sports bettering and bingo. Casino services alone collected $279.3 million, with poker revenues closely following with $84.4 million.

According to 888 Group's board, the staggering 13% increase in revenue from the previous fiscal year is a result of the holdings company's focus on constant innovation. 888Casino for example uses state of the art software and technology, and in a rapidly progressive industry like online gambling this is the only way to stay ahead of competitors.
"In such a dynamic and rapidly developing industry, continually investing in and developing our own world class technology means that we are able to be nimble in relation to opportunities, respond to regulatory developments and create new, engaging and - above all - safe and secure entertainment for our customers."
Of the total revenue 88% comes from B2C services. In other words, 888 Group's primary source of revenue comes to selling its products to every day consumers rather than businesses. Across 10 licenses the holdings company manages to deliver casino services across the globe, and aims to continue growing and expanding to new legal markets in the coming year.
While the numbers demonstrate some incredible growth and progress for 888 Group, they also shed light on modern online gambling trends. From 888 Group's 18+ million customers, trends in the online gambling industry as a whole can be inferred that apply not only to this firm, but all players in the online gambling world.

Read Review
Basic
Claim Up to €888 Deposit Free*
Massive Selection of Games
Stellar Mobile Gaming Platform
What Do the Results Say About Online Gambling Trends?
It is undeniable that online gambling sites have revolutionized the casino industry. , and the population of active internet users is only growing as time progresses.
888 Group has done an excellent job capitalizing on this trend, with their excellent mobile platform and several mobile applications, they have managed to tap into the demand for mobile casino gaming experiences that incorporate social gaming elements to classic casino games.
Back in 2014 the holdings group refused an acquisition offer of £700 million, and after that year they managed to boost their revenue significantly from the mobile channels of their various casino sites. Moreover, incorporating regular tournaments and other unique casino gaming activities continuously engages modern audiences and boosts growth.
Land-Based Casinos Aren't Experiencing the Same Growth
While it is difficult to generalize trends for the fragmented brick and mortar casino industry, what can be said is that the massive growth seen on online casino sites does not extend to land based casinos. The reason, to put it simply, is that traditional casino games like slots that bring in big money are losing popularity.
The percentage of millennials in the US population as an example is already equal to that of Gen Xers, and this number is only rising. Considering the rise of this soon to be dominant user demographic and the fact that slots, which account for the majority of casino revenue, do not appeal to their interests is a troubling trend for land based casinos.
Traditional casino games like slots that bring in big money are losing popularity.
888 Group and Vegas Strip casinos for instance can all attribute a large percentage of their annual casino revenue from gaming activities like video slots. The difference, however, is that in 2016 888 Group's revenue from casino games was up by approximately 21%, whereas Vegas Strip casinos experienced a 12% drop in casino revenue.
While social gambling is on the rise, slot handle in Vegas' land-based casinos is declining. This presents a serious problem for classic casinos white at the same it is a massive opportunity for casino sites who are already catching onto the popularity of social casino gaming platforms.
While Vegas casinos demonstrate interest in combatting these shifts in the market by investing in skill-based gambling video games, during the time it will take to change up their game online casinos are already capitalizing on these trends and delivering the value modern casino goers are looking for.