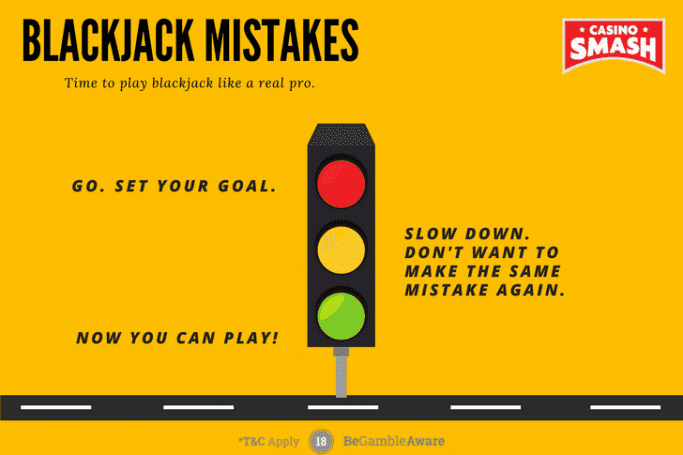 Blackjack Mistakes: Here's Why You Lose Every Game You Play
The only guide that shows you ALL the most common blackjack mistakes and teaches beginners how to play like real pros. Get ACTIONABLE advice to avoid the worst mistakes in blackjack and win more!
This new guide will show you exactly why you suck at blackjack and give you ACTIONABLE advice on how to become a better player by avoiding the most common blackjack mistakes.

First, I'll show you why your approach to the game is wrong and why you are making the worst mistakes in blackjack.
Then, I'll help you to become a better player with some blackjack tips that all professional gamblers know.
Sound good? Let's dive right in…
Blackjack Mistakes 101
As I already explained in my guide to practice blackjack online for free, I consider blackjack to be my piggy bank.
Every time I need to win some money, I head to the blackjack table and let the cards, the math, and the other players help me win some cash.
I'm not saying that winning at blackjack is easy.
I'm saying that it's easi-er than most other games if you know how to play.
To become a winning player, you need to learn what are the most common mistakes blackjack beginners make and avoid them.
In short: it's not hard.
In fact, I get emails every day from people who want to share their success stories with me after they used my private blackjack strategy course.
Is Blackjack All About Fun?
No, it isn't. At least if you haven't decided to quit your session in the red and with a teeny-tiny bankroll.
Today, I want you to change your approach to the game and stop considering blackjack a fun casino game to play.
Do you want to have fun? Play roulette.
Do you want to have fun - with no one around? Play slots.
Do you want to win money? That's when you should play blackjack.
Thinking that blackjack is a fun game to play is the most common mistake beginners make.
You need to have the right mindset to be a winner and the attitude of "seeing how things go" doesn't bring you anywhere.
If you want to be successful, you need to believe in yourself, and you need to sit at the blackjack table with one, clear goal: to make money.
Italians say "Who starts well is halfway there," and there's no better start than to sit at the blackjack table with the right mindset.
If you want to be a winner, you need to behave like one.
Do you think Zlatan Ibrahimovic puts his boots on "to see how it goes?"
Champions play to win - so you need to decide who you are.
If you want to be a follower, don't stress out about your results.
You are not in it for the win, enjoy it and leave all this thinking about blackjack strategy behind. You don't need it.
But if you want to be a champion, be one.
Work on your motivation and your attitude. Tell yourself that "you are going to crush it" and boost your confidence up until you are ready to…
Set a Clear Goal for Each Session
Attitude and confidence are nothing if you don't set a clear goal if you don't decide what you want from your blackjack session.
You need to have a goal to reach something that will tell you that "Yes! This game of blackjack was a success!"
You need a goal that is well-defined, measurable and, most importantly, realistic.
During my blackjack coaching sessions - yes, I do have a selected group of players I mentor - this is the part where most fail.
Bad goal-setting is the worst blackjack mistake. The one that kills your win-rate and pushes you away from the game.
Let me ask you the same question I ask my students:
"How do you recognize success?"
If you think 'winning some cash' makes you successful, this means only one thing:
You have no idea what success is.
Successful people know that they need to set clear objectives to reach, to have very well-defined achievable goals that will determine if they are on the right track or not.
Winning money is not a goal - it's a wish.
Italians have also a saying about people who live following their wishes - but I can't share it here because it doesn't end very well…
Do you know what a real goal is?
"Winning $150."
THIS is a goal.
It's measurable; it's well-defined and, if that suits your bankroll, it's also realistically achievable.
Think about this:
You sit at the table with $50, and you decide that you want to "win money" - like you usually do.
One hour later, you have $55 in front of you. Does this make you a successful player?
You can't know it.
If you had a good time, you'd tell yourself that you had fun and closed in the green so - things went well.
If you have been up to $200 and then you lost it all, you'll be so pissed you'll probably spend the whole $55 on a random roulette spin.
All because you didn't set the right goal.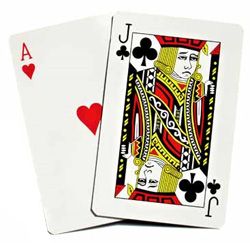 Let's use the same example, but with the right goal in mind:

You sit at the table with $50, and your goal is to turn it into $150. One hour later, you have $55. Is it a success?

Of course not. Success is $150 - not $55.

This will push you to analyze your play, your mistakes, and understand what more you could have done to reach your objective.

This way the foundation of the next game is set.
Know When to Stop
Without a defined goal, you will never know when it's time to stop and go home.
Every good blackjack player knows that it's a mistake not to have two clear figures in mind well before the play begins:
A goal
The maximum you can lose
These two numbers are crucial to increasing your success-rate at the blackjack table.
You need to know how much you need to be successful to know when to stop, and you need to know how much you can lose…
…to know when to go home.
Losing more money than you should is a mistake you can't afford to make.
If you have troubles understanding when to stop, write me to get my 7-step bankroll management program or .
You should NEVER let your feelings and anger prevail.
If you feel the need to play "a little bit more" or to get into "just one more hand" every time you lose - stop right there.
You have a problem and gambling isn't for you. Ask for help.
Can You Use a Blackjack System?
For how shocking this might sound to you, blackjack systems do not work.
I don't care about what the last website you visited said, the idea that you only need to bet x to win z is a fraud.
There's no blackjack system that will help you repay your mortgage.
I met countless "gurus" who claimed to have found ingenious ways to beat the odds and win at blackjack every time you play and, let me tell you this:
If you fall for their lies, you deserve to lose.
Blackjack is an exciting card game where the players get good opportunities to win when they apply the correct blackjack strategy…
…not the fantasies of someone who lives in a trailer and has invested $10 on a cheeky a website.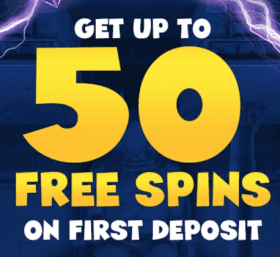 Want to Know More about PowerSpins?
Discover one of the coolest casinos of 2018 and play with up to 50 free spins with NO cap on winnings! Play the best slots and have FUN at this simple casino site - the ideal new room for beginners!
Read More
Card Counting Is a Mistake, Too
Be sure of this: card counting will get you banned.
If you are into casino gambling, there's a good chance that you are familiar with gambling movies like Rounders and 21.
If you are, you know what happens to those who think they can outsmart a casino.
Wait - do you think that's Hollywood?
In October 2017, gambling and poker legend Phil Ivey lost a Supreme Court bid to reclaim £7.7m of winnings withheld by a London casino for five years.
Ivey won the head-spinning sum playing Punto Banco at London's Crockfords Club but - guess what:
He used a technique called 'Edge Sorting.'
The casino found out, started a legal battle, and convinced the judges of London's Supreme Court to rule against the player.
What is Edge Sorting? If you are not familiar with this technique, here's something for you. What Ivey did in London is relatively easy: he spotted some incredibly tiny imperfections located right on the back of the cards used at the table and used them to win his games.
Is this super-smart? Indeed, it is.
Is this legit? The London Supreme Court said it was not.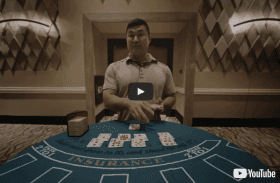 Wait Until You Are Ready
The first time I tried to order a meal in Paris using my French, I ended up with a $55 raw burger with a raw egg on top for me and two of my friends.
They wanted to kill me.
When I placed my order, I didn't know what I was doing - I just thought there could be nothing wrong with a steak because…
…a steak tartare must be a steak, right?
Not in France, apparently.
The same applies to blackjack.
You — like everybody — know the basics: if you get twenty-one, you win.
If you get low cards, you should ask for one more card.
If you go over twenty-one, you have made a mistake.
Does this mean you know how to play blackjack?
Of course not.
To become a good blackjack player you need to learn that different tables feature different payouts and that there's a whole literature on how you should play your cards.
If you play online, you need to know the rules of the game and of the table you play at.
Online casinos offer blackjack variants that you can't find at brick-and-mortar casinos, and even the smallest difference from the traditional game can result in terribly embarrassing losses.
Before you choose your table, make sure you read these two articles:
If you want to avoid the most common beginners' mistakes - don't be a beginner. Learn the basics of the game.
Use the '6-to-5' Rule to YOUR Advantage
If you want to leave the table with more money than you began with, you need to know which table is good for you.
A lot of casinos offer games where a blackjack made with the first two cards is paid 6-to-5:
Those are the games you should avoid.
The 6-to-5 payout is extremely unfavorable to the player. Traditional tables pay the hands 3-to-2, meaning you can get more money every time you hit blackjack.
If you are not sure about your table's payout - ask the dealer.
If you are ashamed to do so because you don't want to look like the room's newbie - go home.
Shame is a mistake that is going to cost you a lot of money.
Look for the C.S.M.
No, the fact that your table uses a Continuous Shuffling Machine (C.S.M.) does not make it cool.
If you care about boring stuff like odds and win-rate, stay away from the tables that use a C.S.M.
These machines have been introduced by the casinos to help them make money faster out of people like you.
On average, a table using a CSM deals 20 percent more hands than a table that doesn't use one.
This way, the table increases the house edge, aka. your chances to leave the table with a much, much thinner wallet.
Debunking the Myths: Betting Systems
From what I see, a lot of online casino sites suggest gamblers relying on some mysterious betting system that works more or less like this:
Place your bet.
If you lose, bet again - but make sure you double the size of your bet.
You'll only need to win once to get even and recover your losses.
As the Italians say: Mamma Mia!
First Mistake. Why in the world would one want to play blackjack to…get even?
Do not even show up at the table unless you have a clear intent to win money and a clear figure you want to reach!
By now, you should have a clear idea about the importance of goal-setting in blackjack. If you don't, it means you've cheated and skipped the most important part of this article.
Your mistake, not mine.
Second Mistake. If there were ever a system to win at blackjack that required people to do nothing more than double the size of their bets, the casinos would go bankrupt in a night.
Ask yourself: how come it doesn't look like casinos lose as often as these betting systems want you to believe they should?
Every time you read about 'the perfect system to win at blackjack' or 'the greatest betting system of them all' - whisk away and hit the bar.
The money you'll spend on your drinks is far less than the money you'd waste on two or three losing bets placed following one of those 'miraculous' systems.
Master the Basic Strategy
Trusting your instinct is the stupidest mistake you can make at the blackjack table.
In 2019, you can find gambling books to learn everything about the basic blackjack strategy in any bookstore and on any casino site on the Internet.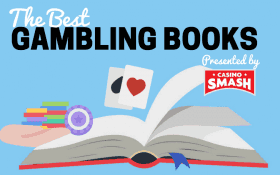 The 17 Best Gambling Books Ever Written

The right books have the power to change your life...and bankroll. Check out the 17 top gambling books every serious player should read at least once and get ready to change your approach to gambling forever.

Read More


If you don't want to double the house edge and end your sessions with painful losses, have a look at this article: it will help you a lot.
Now What?
The choice is yours.
You can go ahead and play blackjack, or you can subscribe to my blackjack course and learn how to become a better blackjack player in four weeks.
If you decide that you don't need the course, here's a present for you - the best five bonuses to play blackjack online in 2019!

Disclaimer: Gambling is a game of chance and there's no sure-fire formula that guarantee winnings. You can improve your winning chances by using the right in-game strategies but there is no way to predict when a machine or a Casino game is going to pay. Also, this page contains affiliate links. If you click through and play, we might earn a commission. That's what allow us to keep CasinoSmash free and bring you the best online Casino bonuses!