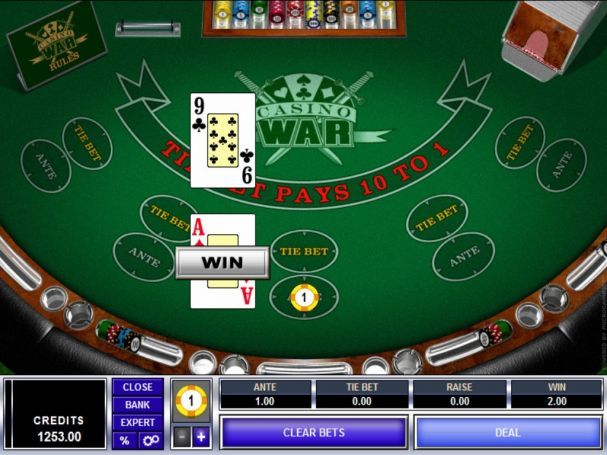 What Is Casino War: Rules, Strategy, Tips to Win
Casino War is one of the most popular games you will ever find in a casino. Check out how Casino War works and discover which bets give you the best odds.
Although Casino War is probably not the smartest game can play at a casino, its simplicity and its resemblance to other popular card games are what usually convince everyone to sit at the table and play a game or two.
If you don't know what Casino War is and you want to find out if you can beat Casino War, keep reading this article - as you are going to find an answer to all your questions.
However, if you don't know anything about the game and you need a detailed rundown of the rules, you can visit the page where I tell you how to play Casino War and list some of the online rooms that offer beginner-proof games at very low stakes.
What is Casino War?
Casino War is possibly the easiest game you can find in a casino. In a game of casino war, the dealer deals one card (face up) to all the players in the game and himself. Once all the cards have been dealt, you have three scenarios:
Your card is higher than the dealer's one: you win.
Your card is lower than the dealer's one: you lose.
Your card matches the dealer's card: the fun begins.
If the dealer's card matches yours, you can choose to 'surrender' or to 'go to war'. The first option allows you to leave the game at the cost of half the original bet, while a 'war declaration' offers you the chance to stay in play - as long as you can bet an amount that is equal to the original wager.
Once you 'go to war' and place your bet, the dealer burns three cards and deals one card to you (and to all the other players who have decided to 'go to war') and to himself. If your second card is lower than the dealer's second card, the dealer wins and you lose both bets. However, if your second card is higher or matched the dealer's second card - the original bet is paid off.
Casino War: One (Dirty) Trick to Avoid. Experienced players, especially those ones who really like to gamble, know that there's a small Casino War trick that can help them to win (or lose) a lot of money.
If you want more action at a Casino War game, you can place a side bet on the fact that your first card will tie the dealer's one. Now, although this bet is usually paid 10:1 (!!!), my advice is not to go down this road because the casino has an advantage of 18.65%.
Casino War: Strategy and Odds
If you are looking for a money-making game, play something else. Casino War is not going to make you rich unless you manage to take home the six-figure jackpot available at this online casino. However, if you are looking for a fun game to play that doesn't need to you to stay at the table for hours, this game is a solid choice.
Now that I told you something about the basics of the game, let me explain you the correct answer to the most common question about this game: "should I surrender, or should I go to war?"
The answer is plain and simple: you should always go to war - even if I just told you that by doing so you will risk twice your original bet for only a single payoff.
Although you may think that there's no reason to risk your money to win only half of your bet, it is definitely better to risk two units than to sacrifice one just because you don't feel to continue. And, if you don't, believe me, let's have a look at some numbers:
The house edge for a strategy that sees you always going to war in case of a tie is 2.88%.
The house edge for a strategy that sees you always surrendering in case of a tie is 3.70%.
So, if you want to play some Casino War games, here's five tips you should always keep in mind:
Never surrender: every time you decide to quit, the house edge moves from 2.88% to 3.70%.
Always go to war: by doubling your initial bet to force the dealer to deal one more card, you bring the house edge from 3.70% to 2.88%.
Never take the side bet: if you want, you can bet on the fact that your first card will match the dealer's one. This bet pays 10:1 but gives the house an advantage of 18.65%.
Really, it's a sucker bet: the house get a better edge only in games like Sic Bo, Big Six, keno, and some slots. Avoid this sucker bet at all costs.
Keep an eye on the Aces: the Aces are the highest cards in Casino War, which means that once you get an Ace you can only win or tie. If you see that no aces have been dealt for an extended period of time, you can be sure that one will appear shortly on the table.
Where to play Casino War online for real money
Some rooms offer good Casino War games for real money. If you don't feel like going to the casino but you want to start a war against a dealer, these are the top online casinos for Casino War:
Unibet Casino: amongst the best-known casino rooms in the world, Unibet offers you Casino War games, slots, live dealer games, an excellent online poker room, and one of the most popular sportsbook out there. Click here to get started with a 100% deposit bonus of up to €100.
Casino.com: this casino room features the best live casino in the industry. CasinoSmash offers you a spectacular welcome bonus package of up to $3,200 with bonuses on your first eight deposits. Click here to know more about this offer.
Ladbrokes Casino: if you want to play on an award-winning platform with hundreds of different games and a superb sportsbook, this is the casino room for you. You can play your Casino War games for free with a deposit bonus of up to €500. Click here for more info.
Betfair Casino: owned by the same group that owns the world's largest Internet betting exchange, this London-based casino is one of the most vibrant rooms in the industry. These guys are crazy about promotions and give free money away every month. Right now, you can play Casino Wars with a £300 welcome bonus available as soon as you sign up through this link.
Cherry Casino: this room may be the lesser known in the list, but the quality of their games and of their support is extremely high. If you like underdogs and you want to play at a not-too-famous-yet-solid online casino, check Cherry Casino out and play with a deposit bonus of up to €200.